Healthcare and insurance

Student Insurance from the National Social Security Institute (INSS):
This insurance provides coverage for students under the age of 28 who are enrolled in degree programs recognized by the Ministry of Education, are not enrolled in any other Social Security plan and do not have an employment contract, as well as foreign students with legal residency in Spain. This insurance becomes effective upon enrollment.
Risks covered: university-related accidents, family misfortunes, neuropsychiatry, surgery, obstetrics, pulmonary and bone tuberculosis, etc.
Healthcare centers included: treatment in these situations is provided at the Guipúzcoa Clinic (Paseo Miramón, 174) on the San Sebastián Campus.
If the student is on the Tecnun campus when the accident occurs, he or she should go to the Tecnun Administrative Office and inform Ana Moreno (amoreno@tecnun.es, ext. 2420) in order to complete the claims form before heading to the clinic.
If the accident occurs when the student is away from the Tecnun campus, he or she should call the Administrative Office as soon as possible and then go to the clinic. The Administrative Office will then send the claims form.
The student insurance does not cover other contingencies such as accidents that occur in the student's home and common illnesses, which should be treated at public healthcare centers or hospitals upon presentation of an individual healthcare card.
Information: NATIONAL SOCIAL SECURITY INSTITUTE.
Amplía la imagen y conoce nuestra asistencia sanitaria y seguros
Adaptation of the assessment system for students with special needs
Students with different special needs (e.g., ADHD, ADD, dyslexia, phobias, illnesses and accidents) may request that the assessment system be adapted and/or that the time allocated for exams be extended.
To do so, students must submit the following form to the Sub-Directorate for Students, along with a medical report and specific adaptation guidelines.
The Sub-Directorate for Students is responsible for ensuring that the relevant adaptations are carried out, issuing the final academic authorization, sending it to the student, and informing the student's academic mentor.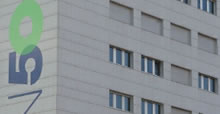 INSTITUTO NACIONAL DE LA SEGURIDAD SOCIAL
Para el campus de San Sebastián:
C/ Podavines, 3
20011 San Sebastián
Tel.: 943 48 36 82
Fax: 943 48 37 38
www.seg-social.es